Home | Saltwater Flies | Fly Tying Materials | Saltwater Fly Fishing Accessories
Ordering Instructions, Shipping rates, Your Satisfaction Guaranteed
Saltwater Flies Mainpage | Chris Windram's Saltwater Fly Museum
Grand Slam Epoxy Minnow
Epoxy streamer flies are extremely effective on a large variety of saltwater gamefish. It's not unusual to take a striper, a bluefish, and a false albacore or a bonito on an Epoxy Baitfish in the same day, and a huge number of Stripers, Blues, Bonito, False Albacore, Snook, and other species fall for epoxy patterns each year. The realistic appearance and durable nature of these flies makes them some of the best flies to have in your box. We have offered several versions of this style over the years, and now we are very excited to be able to offer Glen Mikkleson's Epoxy Baitfish - this style of fly is so iconic in some locations it's known simply as a "Mikkleson". Glen's "Skeeter" is a smaller version of this classic epoxy fly, hard-to-find, and so useful for matching small baits like rainbait, anchovies, and more. Perfect for those situations where fish are refusing larger flies - we have caught many picky fish this way. For 20 years or more, Glen Mikkleson of Atlantic Flies has been quietly tying some of the best saltwater flies available in the Northeast USA - we are very pleased to be able to offer some of Glen's fine flies now at Saltwaterflies.com. More photos: Click Here for more colors of the Epoxy Baitfish.
---

COLORS:                    		             PRICE $6.95 each
#2 Epoxy Baitfish
Chartreuse/White  Add to Cart
Lavender Sand Eel Add to Cart
Olive Spearing	Add to Cart
Tan Anchovy	Add to Cart
Pink/White	Add to Cart 

#6 Epoxy "Skeeter"
Olive/White	Add to Cart
Tan/White	Add to Cart
Chartreuse/White Add to Cart

---
Our Grand Slam Epoxy Baitfish is tied on Gamakatsu's super strong SL11-3H series hook #2 and #6 - the #2 fly is approximately 3 inches in length; the #6 is approx 2 inches long. This is a top pattern for bonito, false albacore, and other small tunas, as well as a deadly fly for spring stripers. Fish the Lavender for sand eels, Olive for silversides or spearing, and the Tan/Gold fly to imitate Rainbait or Bay Anchovy. Tied by Glen Mikkleson.
Fishing the Epoxy Minnow: This fly works well while sight casting to actively feeding fish. The Epoxy Minnow is mainly a daytime fly which works equally well for both shore and boat fishing. For species actively feeding at the surface, cast to the area where fish are feeding, or cast to individual fish if possible. Retrieve steadily with a medium speed. In areas with heavy current, try a dead-drift presentation or cast across the current and let the fly swing...this can be deadly at times. If fish refuse your presentation, try a different color, vary the speed of the retrieve, or add a pause between strips. This fly resists fouling during rapid-fire casts to fish like false albacore, making for perfect presentations cast after cast.
---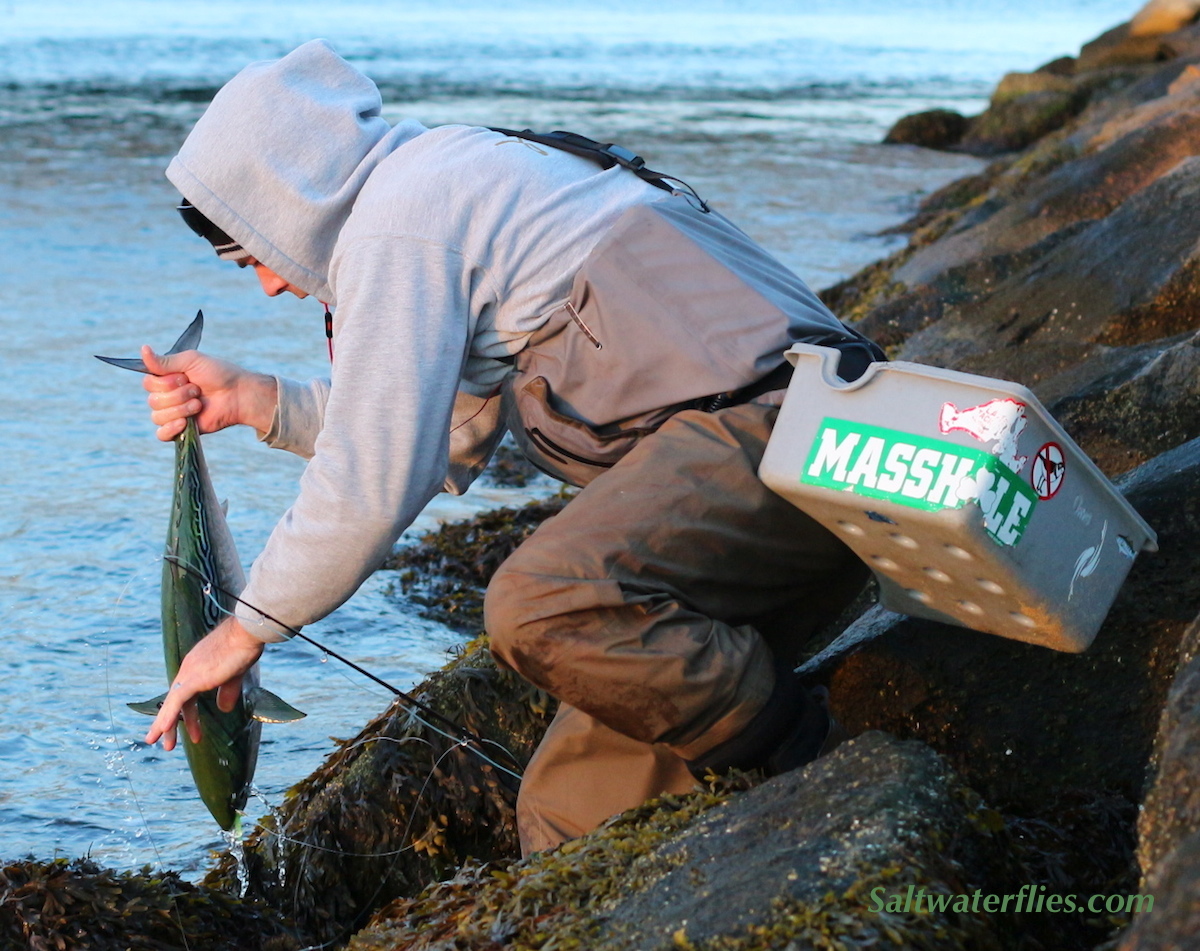 False Albacore - On the Rocks
---
...I have to tell you another success story with one of your flies during a recent false albacore trip...I just got back from two fantastic days of albie fishing with Brian Horsley in Cape Lookout, North Carolina...my first cast on the first day I hooked up a beautiful albert with a Grand Slam Epoxy Minnow! It just stood out in my fly box as the one to tie on first, and I'm sure glad I did! Thanks for the successful start to a great trip of albie catching!
David Miller - Vienna, Virginia.
---




SaltwaterFlies.com - Catch More On Line!

We can help you to choose a fly selection for your needs.
E-mail us at cwindram@SaltwaterFlies.Com.

[Back to the Fly Navigation Page] [Wade Back to the Home Page]