Home | Saltwater Flies | Fly Tying Materials | Saltwater Fly Fishing Accessories
Ordering Instructions, Shipping rates, Your Satisfaction Guaranteed
Saltwater Flies Mainpage | Chris Windram's Saltwater Fly Museum
Fly Specials!
---
Classic Deep Minnow Tutti Frutti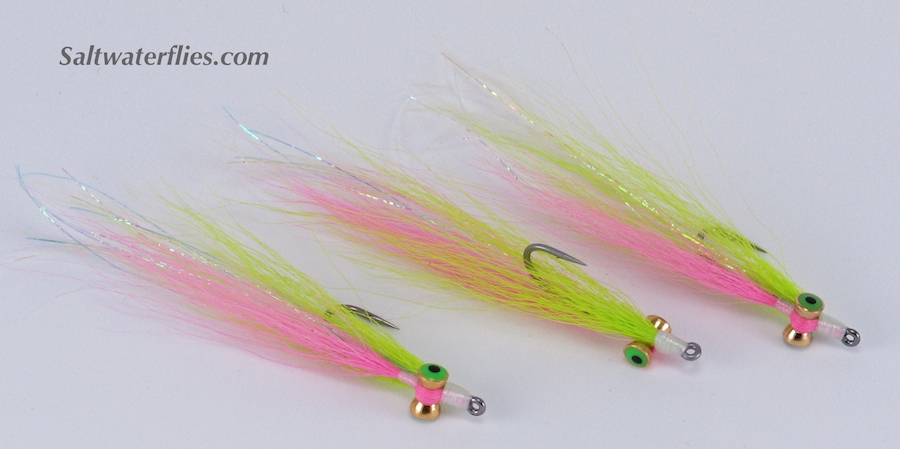 COLOR/SIZE:                		              PRICE $4.99 each

Tutti Frutti (Chartreuse/Pink) #4	Add to Cart
Tutti Frutti (Chartreuse/Pink) #2	Add to Cart


This special Tutti Frutti" Deep Minnow is a variation on this classic fly - we get many requests for this pattern each year. Very effective for false albacore fishing, specs (seatrout) and reds, spanish mackerel, and many other fish that like to strike bright color patterns. This high contrast color pattern is good for slightly off-color water, or water with some suspended sediment - killer spring striper fly, great for surf fishing. Also quite useful for situations where there are large numbers of baitfish, as this fly really stands out. Tied with premium quality hooks and materials. The #4 fly is approximately 2 1/4" long (6 cm); the #2 is approximately 3 1/4" long (8.5 cm).
---
Fly Archives
The patterns shown below were all limited edition patterns that we have offered over the past years at Saltwaterflies.com, but which are no longer available. We have archived them here as a reference for anyone who might wish to tie some of these patterns.
---
Couch's EC Baitfish
Bill Couch's "EC Baitfish" are some really nice deceiver-style baitfish imitations that we used to offer. All styles are sold out. Really cool - we are leaving the photos posted here for everyone to enjoy.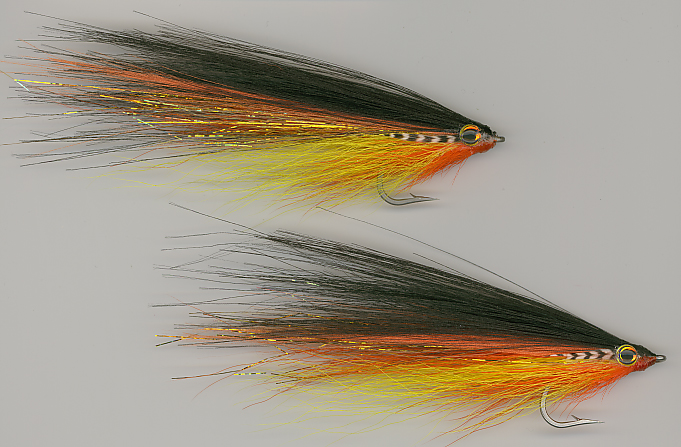 Sold Out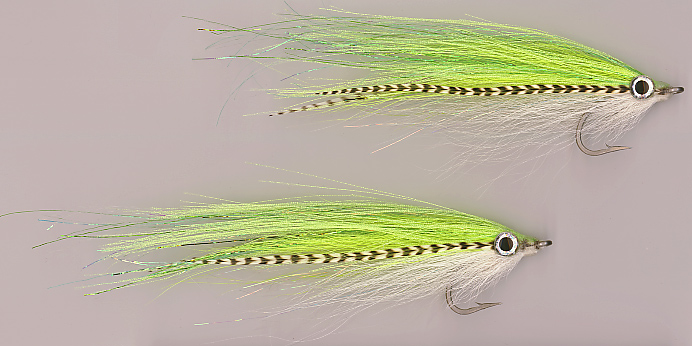 Sold Out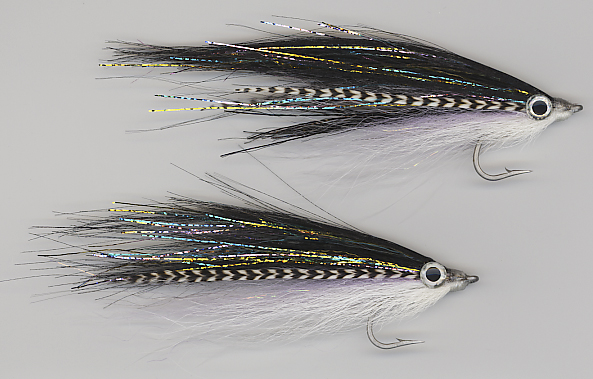 Sold Out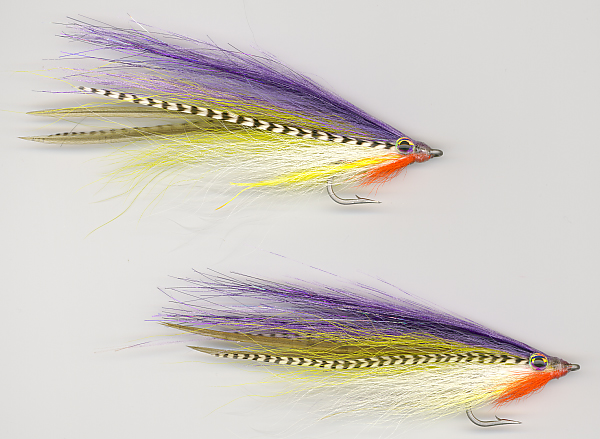 Sold Out
---
Scott's Silversides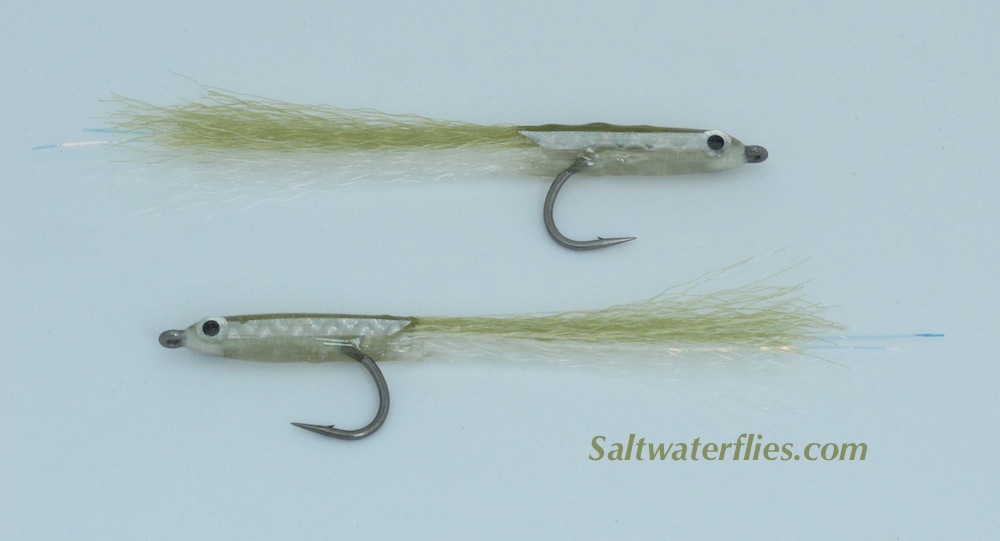 Scott's Silversides is a perfect imitation of a Silversides, a top quality fly tied by a master craftsman! This fly has been featured in many publications over the years, and is often referred to as simply the "Scotty Fly". A deadly fly for striped bass, false albacore, snook, baby tarpon, and more. This is a classic surf candy style epoxy fly, very nicely tied.
Sold Out
Scott's Bay Anchovy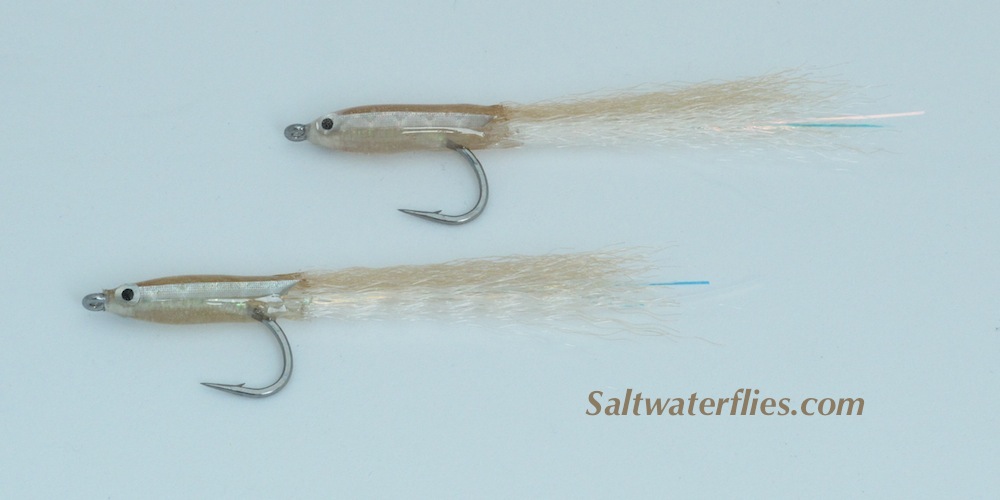 Sold Out




TIGHT LINES!
P.O. BOX 362, HOUSATONIC, MA 01236
413 274-6143 * Fax 413 274-0145


SaltwaterFlies.com - Got Backing?

We can help you to choose a fly selection for your needs.
E-mail us at cwindram@SaltwaterFlies.Com.

[Back to the Fly Navigation Page] [Wade Back to the Home Page]