Home | Saltwater Flies | Fly Tying Materials | Saltwater Fly Fishing Accessories
Ordering Instructions, Shipping rates, Your Satisfaction Guaranteed
Saltwater Flies Mainpage | Chris Windram's Saltwater Fly Museum
"FPF" Offshore Tube Fly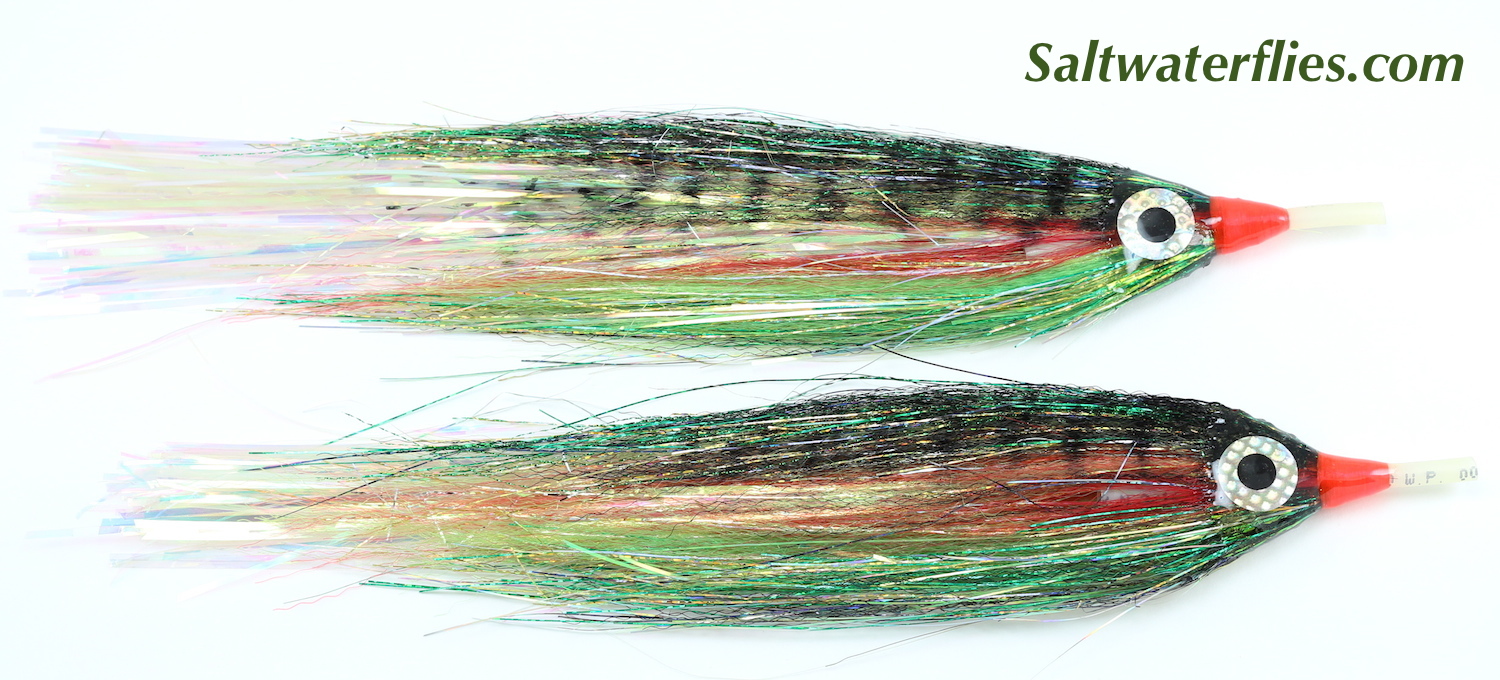 FPF Mean Joe Green (Mackerel)
The "FPF" or Flashy Profile Fly style is a killer for offshore big game fly fishing. These large offshore tubes are for targeting Sailfish, Wahoo, Marlin and more. These excellent designs by Bill and Kate Howe have been responsible for some world record fish over the years. As with most tube flies, no hooks are included to allow a variety of rigging options - we do offer some offshore hooks pre-rigged on 100# test mono for these and other tube flies. Also available are some big-game popper heads that can be rigged ahead of the fly for added commotion.
---

FPF Offshore Tube Flies $25.95/ea

Mean Joe Green (Mackerel) Add to Cart

Wahoo / Hot Pink Sold Out

Trailer Hooks: our trailer hook/shock tippet rigs feature about 24" of shock tippet material snelled to the hook. 
If you prefer to rig your own, you can puchase hooks like the Gamakatsu "Octopus" hook from our Fly Tying Materials Catalog, 
and heavy monofilament is available on our Fly Lines & Accessories page. 
The "Tandem Hook Rig" is two Gamakatsu #6/0 Octopus hooks connected by a double wire - the Tandem Hook Rig is little over 5 inches in total length.

Gamakatsu Octopus 6/0 hook/100# mono shock tippet  $4.79/ea	Add to Cart
Gamakatsu Octopus 7/0 hook/100# mono shock tippet  $4.79/ea	Add to Cart

Tandem Hook Rig for Tube/Offshore Flies #6/0 $4.95/ea	Temporarily out of stock

Turbo Poppin' Heads: Large offshore style popper heads that can rigged to ride on the leader ahead of offshore streamer flies, or affixed to the nose of the fly. 
These heads provide maximum sound and disturbance in the water to attract the attention of sailfish, marlin, tuna, wahoo, and more. 
Diameter of these is approximately 1 1/4" (3cm) at the face. Length: about 1 1/2 inches. 2 heads per pack. $6.99/2pk.

Chartreuse Add to Cart
Hot Pink Add to Cart
White Add to Cart

---
These big offshore tube streamers are approximately 10 inches long, not including the tube "nose".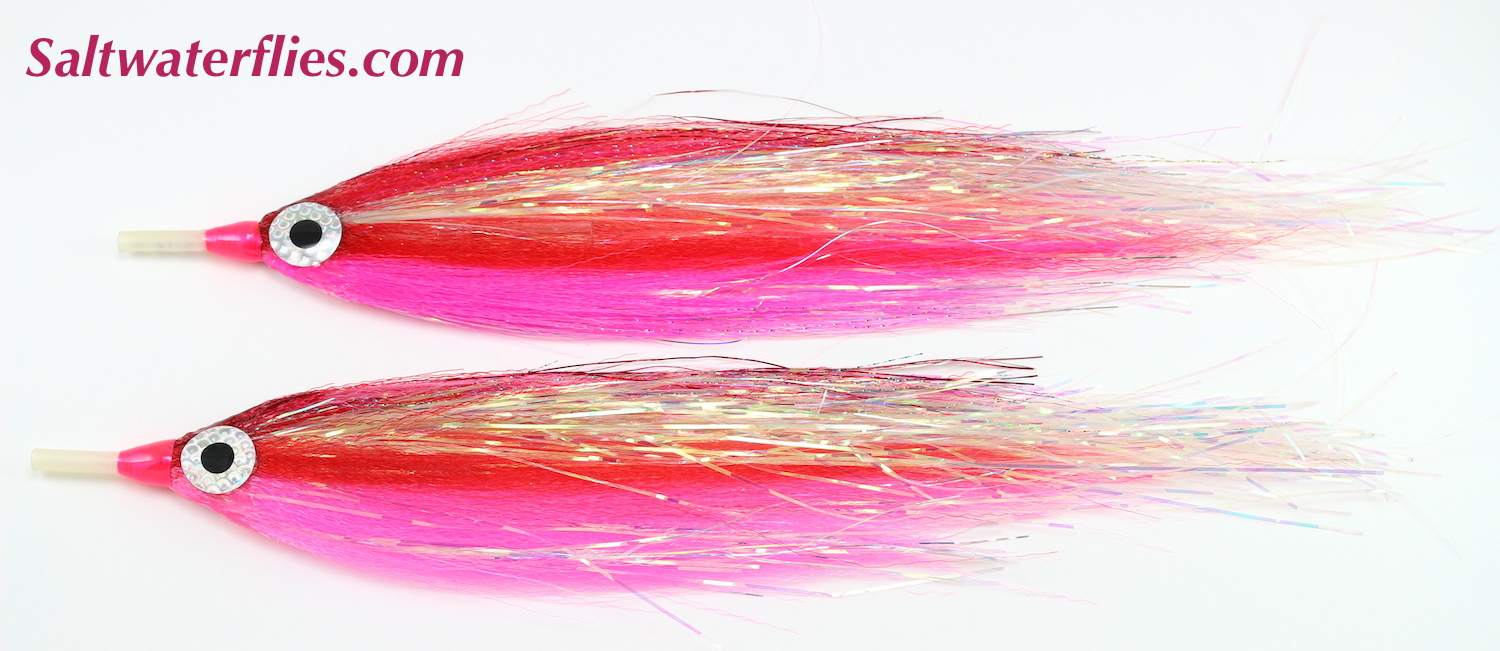 FPF Wahoo / Hot Pink
---
---
Note: All of the Saltwater Flies that we sell are handcrafted items - some small variations in size, color, or shape from the flies pictured here are possible. Because these are handcrafted items, quantities are limited. We guarantee your satisfaction with any fly purchased from us - if any fly you order from us does not meet your expectations, you may return it (unfished!) for a full refund.
---
Leaders, Tippets, Fly Boxes, Flashlights, Knives, Chest Packs, Sun Gloves, T-shirts, Knot tying tools, Hook Hones, and more!




TIGHT LINES!
P.O. BOX 362, HOUSATONIC, MA 01236
413 274-6143 * Fax 413 274-0145


SaltwaterFlies.com - Got Backing?

We can help you to choose a fly selection for your needs.
E-mail us at cwindram@SaltwaterFlies.Com.

[Back to the Fly Navigation Page] [Wade Back to the Home Page]