Home | Saltwater Flies | Fly Tying Materials | Saltwater Fly Fishing Accessories
Ordering Instructions, Shipping rates, Your Satisfaction Guaranteed
Saltwater Flies Mainpage | Chris Windram's Saltwater Fly Museum
TNT Baitfish Fly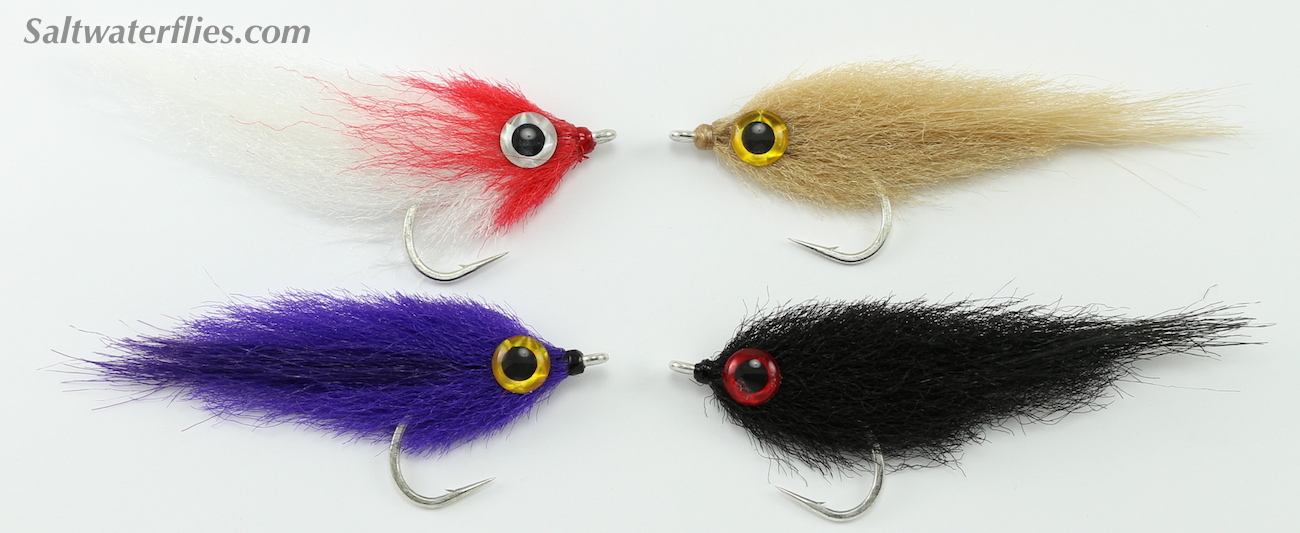 TNT Baitfish - BOOM! Taylor Topliffe's "TNT" is a style of baitfish fly that we have relied on for years for tarpon, snook, redfish, stripers, and many other inshore and backcountry gamefish. Excellent silhouette, with bold colors that really stand out. This is smaller sized stealth style fly - a real killer when fish are preying on herrings, pilchard, shad, and other small baits with a wide profile - the Red/White is just right for peanut bunker blitzes and snook fishing... Purple and Black are classics for tarpon. Deadly in so many situations - pick up the whole set to cover varying conditions. Enrico Puglisi popularized his "EP Baitfish" style many years ago - this fly is an evolution of Enrico's excellent pattern, with nice bold colors and oversize reflective eye.

TNT Baitfish #1/0 $6.99/ea

Red/White Add to Cart
Black Magic Add to Cart
Tan Add to Cart
Purple Add to Cart

Save $$ - 1 each of 4 different colors Add to Cart

---
The TNT Baitfish Fly is approx 2 3/4 inches (7 cm) long, and tied on strong Mustad C68 size #1/0 saltwater hooks by Taylor Topliffe.
---
Red/White
Black Magic
Tan
Purple
---
Note: All of the Saltwater Flies that we sell are handcrafted items - some small variations in size, color, or shape from the flies pictured here are possible. We guarantee your satisfaction with any fly purchased from us - if any fly you order from us does not meet your expectations, you may return it (unfished!) for a full refund.
---




TIGHT LINES!
P.O. BOX 362, HOUSATONIC, MA 01236
413 274-6143 * Fax 413 274-0145


SaltwaterFlies.com - Got Backing?

We can help you to choose a fly selection for your needs.
E-mail us at cwindram@SaltwaterFlies.Com.

[Back to the Fly Navigation Page] [Wade Back to the Home Page]