Home | Saltwater Flies | Fly Tying Materials | Saltwater Fly Fishing Accessories
Ordering Instructions, Shipping rates, Your Satisfaction Guaranteed | Site Map
Saltwaterflies.com Reviews, Viewer comments, questions, etc.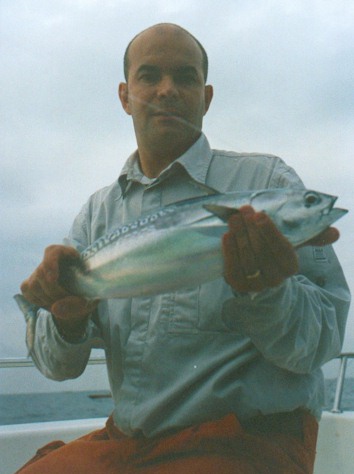 Do you have an interesting story to tell about your own saltwater fly fishing experiences? Like to share a unique or useful pattern with other tiers and fly rodders? Like to report on some fishing you've done lately? Do you have a question or comment to make about SaltwaterFlies.Com? Would you like to share a photo of a fish you've caught, or somewhere you've been?
Send comments, questions, stories, and photos to:
cwindram@saltwaterflies.Com
We will post some of the comments that you send here on this page, and we will also do our best to answer some of your questions here.
Special thanks to Fabrizio Mioletti from Italy who sent us the photo of an Italian "Bullet Tuna".
Send in your favorite photo! E-mail us now!
---
---
October 17, 2013
Thank you Chris, As usual the service I've received from you is brilliant.
Cheers, Darren E., Australia
---
---
July 19, 2013
Good Morning Chris, Thank you for the fly box! What an incredibly nice touch. I really appreciate your thoughtfulness. You and your staff do a wonderful job. I enjoy doing business with Saltwaterflies.com.
Best regards, Gary H., Missouri
---
---
January 3, 2013
Hello Chris: Just received the order. Incredibly well packaged once again. You guys are pros.
Claude H., Canada
---
---
October 8, 2012
Thanks for all the great service and supplies.
Steve A., California
---
---
September 17, 2012
Thanks Chris! I order from you because I get what I want, shipped fast and at a reasonable cost.
Philip B., Alaska
---
---
August 13, 2012

Dear Chris - not sure replying to (your confirmation) email will actually work but I wanted to alert you to the fact that Priority Mail never reaches me in the time frame promised by the US Postal Service for Priority Mail. If you track the package from my last order you will see that the postal worker for my street in tiny town had my order out for delivery at 8:30am. You can walk across my whole town in 5 minutes. I checked the mail around 3pm and again at 5pm. I also tracked the package at same times. Between the time I checked the mailbox, the claim was made that the postal worker "left a notice" and bottom line is I will have to wait until Monday to get the order. They could have left it in my box or even on the ground next to the driveway or on my door step. I'm advising you of this because I paid for Priority Mail, and I will not recieve your package in the time it was supposed to arrive. I would like to ask that you send my next order by regular US Mail or better yet, UPS. UPS always delivers to me on time and they have no problem walking the driveway to leave boxes on my door step.

Sincerely, Skip B., Delaware

=================================

Skip B,

I am so sorry to hear that the delivery of your order was delayed... Please accept my sincere apologies for your inconvenience.

I can sympathize with your dissatisfaction, but I would ask you to please understand that we have no control whatsoever over the movement of our packages once they leave our offices and are in the hands of any of the delivery services.

Please be aware that you may choose Priority Mail or UPS Ground according to your preference any time you place an order with us - all options for shipment can be found on our shopping cart.

We do not typically ship by First Class Mail, but if you want to you may request this in the "Special instructions" box that you will find during the checkout process on Saltwaterflies.com, and we will do our best to ship your order by this method. Please note also that any package that weighs 13 ounces or more is required to ship by Priority Mail, so if your order ends up weighing over 13 ounces, it will have to go Priority Mail even if you request "first class mail". Please do understand that there is absolutely no guarantee that regular first class mail will arrive at your location any sooner than Priority Mail - it has been my experience these services both travel at the same speed through the system.

I have made a note here to ship any future orders for you by First Class Mail for a reduced rate whenever possible assuming you choose US Mail as your shipping parameter. If you choose UPS, we will ship by that method.

I hope that this is of some assistance to you.

Many thanks and best wishes,

Chris Windram
---
---
June 26, 2012
Hi Chris. Thanks a lot for your incredible fast order update! Indeed, it is fantastic if you could get me packs of 100 for the #8 SL11-3H. I will be waiting for your next update - again thanks for your top services!
Sincerely yours, Matthieu C. France
---
---
March 20, 2012
Chris, It's my first time ordering with you guys - looking forward to seeing the quality of your flies. Up to now, the service has been excellent, starting with the nice lady who answered the phone yesterday and fielded some of my questions. So far, happy. Thanks (for the confirmation e-mail).
Ed H., California
---
---
February 8, 2012
Thanks again Chris for the great service, sorry about thanking you so much but in the past I have been treated poorly a few times from other companies. Your site has everything a fly tier shall need! I also got the tracking number as well. Thanks for everything and look forward to future business.
Joe S., New Jersey
---
---
February 5, 2012
Chris - Every few months I search the internet looking for a website that has everything for saltwater fly tying. I have to say, your website (BY FAR) has everything! Every little item thats tough to get, to all the popular ones as well! Thank you for such a great site. I am looking to put in a large order in the next week or two - Thank you for your time and keep up the great work. I have heard only the nicest things about you from the Flytyingforum.com.
Joe S., New Jersey
---
---
January 17, 2012
Hi Chris W, Thanks for a wonderful ultra-fast delivery of my last order! I am grateful to your service and can assure you that this is not my last order :) Tight lines to you and your staff at Saltwaterflies!
John A.H., Norway
---
---
January 9, 2012
Great website and selection - thanks.
Louis S., Massachusetts
---
---
January 4, 2012
Thanks Chris, Your site is the first I check when I need tying stuff.
John G, New York
---
---
December 31, 2011
Thanks Chris. Didn't expect my order to go out today. Your service continues to be epic.
Robert R., Arizona
---
---
October 19, 2011
Thank you. I really think your website and service is great.
Ronald S., Illinois
---
---
August 10, 2011
Chris, Thanks for your prompt answer to my question, and great service. I just tracked my order and it is being delivered today. You have exceeded my expectations and I will be sure to order from you in the future.
Blaine R., Louisiana
---
---
July 21, 2011
Thank you Chris for the order confirmation. Your company was highly recommended by a member of the Texas Fly Fishers Club in Houston of which I am a member and new fly tier. Its nice to do business with companies that show their appreciation of new customers. Probably won't be my last order and I will pass the word. I am also a member of a fly tying group that meets once a month and has about 10 active tiers. We all look for sources of good materials.
Regards, Ron R. Texas
---
---
June 22, 2011
Chris, I just received the order you sent on Monday. Less than three days across the continent, you were right about the Postal Service. I appreciate your fast and personal service and I wish you success.
Rob C., Oregon
---
---
May 12, 2011
Ordered on 05/09/201, received on 05/11/2011. Fantastic service.
Don S., Alabama
---
---
May 9, 2011
Thanks a lot Chris. Your service is impeccable. You have set the bar my friend. I appreciate your help immensely. It always seems like last minute travel/fish opportunities come down the pike when I'm short on critical tying components. What a relief to have your service to rely on.
Cheers, Trip B., Wyoming
---
---
April 18, 2011
Cheers Chris. It's such a pleasure to deal with a company that keeps you informed, I find it is very important especially as an overseas customer. I have ordered components twice from another online company in the states and their communication was dreadful, and they never fully read the order instructions, sent the wrong components and I had to chase them to find out why some stuff wasn't delivered. Needless to say I won't order from them again. I really appreciate the effort you make.
Cheers, Brendan J., Queensland
---
---
April 12, 2011
Chris--I just wanted to let you know that Saltwaterflies.com is far and away my favorite vendor for fly tying supplies. You guys are so responsive and helpful, and it is greatly appreciated.
Have a great day--Steve E., New Mexico
---
---
March 30, 2011
Just wanted to a write a quick note thanking you for your excellent service. My flies arrived quickly - even though I changed my order at the last minute - and they were well packaged and arrived in great shape. They're also well-tied and of excellent quality. I certainly will recommend you to all my fishing friends. Pleasure doing business with you.
Robert D., Vermont
---
---
February 12, 2011
Thanks for getting that order here so quick. Y'all have a great operation going. Take care.
Patrick G., Oklahoma
---
---
December 29, 2010

Seasons greetings and many thanks for your prompt and attentive service , as usual.

At the risk of sounding like a broken record, I reckon I have made purchases from upwards of ten online retailers of fly tying and fly fishing supplies in the past year , in the U.S. as well as Australia and the U.K. , and Saltwaterflies.com continues to outperform all other vendors by a wide margin in customer service and speed. Well done!

Wishing you a happy, healthy, and fish-ful New Year!

Tom G.
---
---
December 28, 2010
Dear Chris, You have won a faithful customer. When you had personally confirmed my original order I knew I had found a business that cultured customer loyalty. My other most recent order went to a company that shipped a partial order and noted out of stock with out any follow up, and the shipping made the cost of the items sent out outrageous. Thank you again and I will be back and spread the word. Have a great New Year!
Respectfully, Jim R., New York
---
---
December 14, 2010

Chris, I've been pinging various folks with this question; but maybe you know:

Why do shrimp fly patterns often have the eyes in back. I realize it may be easier to tie that way, but if you haul or retrieve the shrimp imitation appears to be moving backward. I've seen shrimp, even caught them, and they usually dart forwards not backwards. So do you know why that would be a successful design?

Neil O., Virginia

=================================

Neil,

Thank you for your e-mail - I greatly appreciate it.

Shrimp typically swim, feed, and crawl in a forward direction (in the same direction that their eyes are facing) - they do this not with their tail, but with the small sculling appendages on the underside of the tail, and this movement is usually associated with animals that are not frightened. However, their flight response to a predator is usually a strong flip of the tail fluke (also called the "telson"), which propels them backwards - hopefully to flee to safety! Most crustaceans with a similar body plan will do this - lobsters, shrimp, crayfish, etc. I keep both shrimp and crayfish in aquariums, and they move forward when they are happy, but if one reaches in with a hand or net to try to get them, they flip their tails strongly and shoot backwards to safety. I will say that they resume their normal forward motions pretty quickly even after being pursued - I think the backwards tail flip takes a lot of energy, and it doesn't seem that shrimp can sustain this type of movement for very long.

So, I think that many tiers assume that since shrimp being actively pursued may move backwards when a predator like a bonefish approaches, then the predator will typically be looking at the front end with the eyes as the shrimp flees, and hope that this appears natural to the fish, and may even entice it more into striking.

Though the backwards flight response of the shrimp is a common occurrence, I haven't seen it proven anywhere that tying the eyes at the "back" of the fly works better or worse than the reverse, so if you feel the urge to make some the other way around, I wouldn't try to dissuade you. The eyes on the back is just the way that most tiers have become accustomed to make their shrimp flies. I can tell you that I have tied many flies in this configuration, and the fish do seem to like them.

I hope that this is of some assistance to you - best wishes for fine fishing in 2011.

Chris Windram
---
---
August 4, 2010
It's hard to find a fly shop that has better service than you guys....you ROCK.
Eli B., Michigan
---
---
July 15, 2010
Hi Chris. Gotta tell you again that you consistently run circles around any other online vendor of fly fishing supplies, anywhere, in terms of speed, service and efficiency. Big circles. Bigger than my tailing loops. Well done!
Tom G.
---
---
May 26, 2010
Chris, You run a tight operation with great selection, inventory and customer service...... a good model for other online retailers to emulate. Thanks!
Dean Clark, pro tier and guide, Massachusetts
---
---
April 16, 2010
Order received today, very carefully packaged once again. I'm really impressed with your service.
Regards, Claude H., Canada
---
---
March 8, 2010
Thanks very much, the order came today and I'm wearing my new T-Shirt as we speak. Everything is in great order, thanks for the extra thread and it a pleasure doing business with you.
Cheers, Pete F., Australia
---
---
February 18, 2010
When this started I was looking for some flies to toss at some stripers down here in Indiana. Found your web site started thumbing around got some good ideas. But I had question so I made a phone call and got some one who knew what I was talking about. Gave me good info about what I needed. I placed a order short - after that I got a email from somebody (Chris) telling me that your folks had gotten my order. Then I got another telling me it was on the way. Then I got my package opened it up. Packing list with everything being what I wanted. If every company in the U.S. treated their customers with this kind of treat we wouldn't have the problems were are having now. I have plans to do more shopping here.
Mike F., Indiana
---
---
January 14, 2009
Chris: Ordered from you on the 12th; stuff arrived the 15th. Can't get it any faster if I order from a MT source. Terrific service, thanks. Consider your back patted.
Wayne H., Montana
---
---
November 3, 2008
Order received as placed. Thank you for the samples and the quick service.
Alex V., South Carolina
---
---
October 27, 2008

Chris,

I received the White Ultra Thread yesterday, thank you so much. If there is an award for fly tying materials customer service...you would get my vote!

Best regards, Alan M., Illinois

------------

Alan,

Glad we could help out with the thread. I understand that a small thing like the right spool of thread can really make a difference in a tier's comfort level when tying, or overall satisfaction with the finished fly in having just the right material for the job. Something that would not cost us much could make a real difference in how you might enjoy your fly tying, so I was happy to make the effort!

Bottom line for me when serving our customers is to ask myself - how would I like to be treated? It's an easy question to answer, and all of our ideas about customer service are based on this.

I hope that we can continue to be of service to you in the future, and I wish you all the best for enjoyable fly tying this fall and winter season.



Chris Windram
---
---
October 22, 2008
Chris,
Fantastic service. The order arrived today, and I can't wait to get tying.
Regards, Dougal R.
---
---
October 6, 2008

Saltwaterflies.com,

I'd like to start salt water fly fishing. What rod, reel line etc would you recommend for False Albacore tuna?

William V., Pennsylvania

------------

William,

Thank you for your e-mail - I greatly appreciate it.

William, we don't currently sell rods & reels, so I should make that clear to start. However, I have spent many hours fishing for False Albacore in New England, and I almost always fish with a 10 weight rod, rigged with a 10 or 11 weight line...many (but not all) saltwater fly anglers rig with a line that is one size heavier than the rod is rated for - this helps make short casts quickly, which can be useful in situations where the weather is windy, or for stuff like boat and jetty fishing for albies, where the fish are relatively close, and casts must be made quickly. As far as rod brands are concerned, I am of the opinion that it doesn't matter that much...almost all of the modern saltwater fly rods sold today are very high quality.

I have used a few Thomas & Thomas rods for albies, and I love them...price point is in the $500+ range for their premium rods. For a more affordable rod, it would be very hard to beat the St Croix "Legend Ultra" - these are closer to the $300 range, and are just as good as rods costing much more - I have been fishing one of these for two years now, and it has been excellent.

For reels, some personal favorites are the old "Ahab" reels by Fin-Nor - these went out of production years ago, but I love 'em. Islander large arbor reels, or the Tibor large arbor reels - are both top-quality reels designed to perform smoothly and last many years. Albie fishing pretty much demands a smooth, quality reel with a fairly large capacity - 150-200 yards of backing plus flyline. The older model Abel reels are also excellent quality, and you can often find a great deal on some of the older "big game" models on ebay.

For lines, most folks run one of the "clear intermediate" style lines - good ones are made by Cortland, Airflo, Rio, and more. As a second choice, a medium density full sink or sink-tip line that has a sink rate in the 3-4 inches per second range can be very good for boat and jetty fishing.

For fun, here are some photos of False Albacore fishing in New England:
https://www.saltwaterflies.com/photo00.html
https://www.saltwaterflies.com/photo04_05.html

We do offer some of the best flies for Albie fishing - if you get that far and need some flies, please contact me, and I would be happy to assemble a nice selection for you.

Many thanks and best wishes for fine fishing,

Chris Windram
---
---
October 4, 2008

Hello There,

I'm in the middle of planning a trip to La Ventana, Baja. I've never fished Baja, and I understand you guys are the vendor with a wide range of flies. I'm looking to get some decent flies for my trip... I'll be fishing from kayak and shore. I've read I'll be fishing in waters that hold leopard grouper, different sea bass species, rooster fish, ladyfish, snapper, etc. you probably know more than me about the area.

I'll be bringing an 8# rod, and have sinking as well as floating line.

I'd genuinely appreciate it if you would be willing to suggest a "package" of flies, of your selection. If it's not possible, I understand, but it would genuinely be appreciated. I won't be going with a guide for the fly fishing portion, so your selection along with a few books will be my keys! Looking forward to doing business with you.

J.W., Ferndale, Washington

------------

J.W.,

We could certainly assemble a selection of flies for your fishing in Baja. I have not personally fished there, but I have spoken with many folks who have, and who have been successful fishing for sea bass, roosters and other species. Keeping in mind that you said you would be fishing with an 8 weight rod, which is fairly light for the location, a selection of flies would start with some small-to medium sized deceiver style flies to imitate the "sardina" which is a common baitfish there - our "Deceiver Classic", and also the "Mushmouth" would be good:

https://www.saltwaterflies.com/deceiver.html
https://www.saltwaterflies.com/mushmouth.html

Other patterns that should be included would be some "Clouser" styles like our "Classic Deep Minnow": https://www.saltwaterflies.com/minnow.html, as well as some sort of "Bunny Fly": https://www.saltwaterflies.com/bbunny.html

Any of the flies shown above can be fished on either sinking or floating line, but for fishing from the kayak, sinking line will probably produce best, as it just puts the fly closer to the fish.

Lastly, a very cool and effective topwater fly that is easier to cast than a popper is the "Crease Fly" - this has been very good for agressive topwater feeding fish: https://www.saltwaterflies.com/crease.html

With heavier tackle (10 weight rod or larger), you would have a better choice of medium and larger flies in case you run into dorado, tuna, or large roosters, but the flies shown above should serve you well for fishing with 8 weight tackle.

I wish you all the best for a fine trip to Baja!

Chris Windram
---
---
September 15, 2008

Dear Saltwaterflies.com,

JUST A FEW WORDS. BREATH TAKING. Could not be more pleased with the flies, line and the service. Will let you know how things work out next month.

Best,

David W., South Carolina

------------

David,

Thank you for your e-mail, and your kind words. I am glad that your order arrived safely, and to your liking... we do our best to treat our customers as we would wish to be treated. I certainly wish you all the best for fine fishing - let us know how you do with the false albacore, etc!

Chris Windram
---
July 6, 2007
Hey Guys,
Thought you might enjoy this link - a stripersonline forum page with folks talking about Saltwaterflies.com: https://www.stripersonline.com/surftalk/showthread.php?t=534886
Dave Skok, Massachusetts
---
---