Home | Saltwater Flies | Fly Tying Materials | Saltwater Fly Fishing Accessories
Ordering Instructions, Shipping rates, Your Satisfaction Guaranteed
Saltwater Flies Mainpage | Chris Windram's Saltwater Fly Museum
Extreme Deceiver - Bluewater Special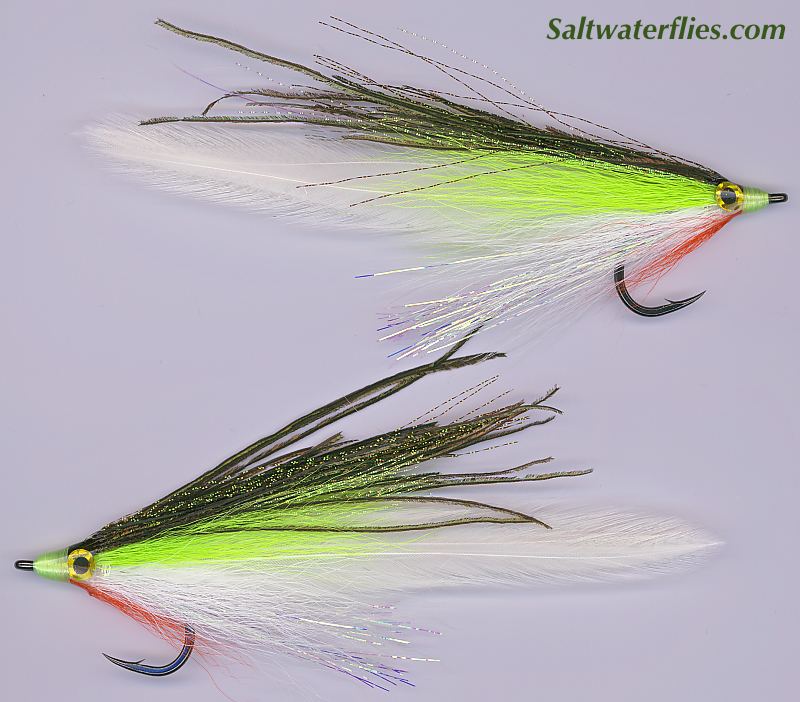 At long last, we are pleased to present the Extreme Deceiver "Bluewater Special", tied for anglers fishing on the edge of possibilities for the world's toughest gamefish. Tuna, wahoo, giant jacks and trevally, king mackerel, bruiser barracuda, big bull dorado, 50 pound roosters, giant jungle tarpon, and slob stripers all require large flies tied on super-strong hooks. Big fly - Big Fish! We have offered several of our "Maximum Deceiver" designs over the years, and they have always been among our most popular flies, but this fly tops all of our previous efforts for large deceiver designs. Quantities of this fly are always limited.
To view a fly tying tutorial on this pattern, click here.

COLORS:				SIZES: 5/0	$12.95/ea

Extreme Deceiver Bluewater Special

Chartreuse/White	Temporarily out of stock

3 Packs - save $$ $36.95/3 pk

Chartreuse/White	Temporarily out of stock



---
The #5/0 Extreme Deceiver Bluewater Special measures approximately 6 inches long (15 cm)... tied by Mike Ozkaya. We have spared no expense on this one in creating the highest quality deceiver featuring the Gamakatsu Inline Octopus Straight Eye 4X Strong offshore hook, matched long white saddle tail feathers, and an epoxy head over a large reflective eye. It is our opinion that you will not find a better big-fish deceiver style anywhere! Click here for an Alternate View of this fly. To view a fly tying tutorial on this pattern, click here
---
Note: All of the Saltwater Flies that we sell are handcrafted items - some small variations in size, color, or shape from the flies pictured here are possible. We guarantee your satisfaction with any fly purchased from us - if any fly you order from us does not meet your expectations, you may return it (unfished!) for a full refund.
---
Leaders, Tippets, Fly Boxes, Flashlights, Knives, Chest Packs, Sun Gloves, T-shirts, Knot tying tools, Hook Hones, and more!




TIGHT LINES!
P.O. BOX 362, HOUSATONIC, MA 01236
413 274-6143 * Fax 413 274-0145


SaltwaterFlies.com - Got Backing?

We can help you to choose a fly selection for your needs.
E-mail us at cwindram@SaltwaterFlies.Com.

[Back to the Fly Navigation Page] [Wade Back to the Home Page]