Home | Saltwater Flies | Fly Tying Materials | Saltwater Fly Fishing Accessories
Ordering Instructions, Shipping rates, Your Satisfaction Guaranteed | View Shopping Cart | Site Map
Saltwater Flies Mainpage | Chris Windram's Saltwater Fly Museum
Saltwater Fly Museum
Greetings, fellow fly tiers and anglers! Welcome to the Saltwaterflies.com Museum of Saltwater Flies. On this page I will be featuring some special fly patterns from my personal collection. During my years as a professional fly tier, I have collected a fair number of really beautiful flies from a variety of wonderful tiers. Some of the flies displayed here were given to me by the tiers themselves; many of these patterns were purchased at fly shops or shows. Some of these flies were tied by well-known saltwater fly tiers, others were tied by amateurs with every bit as much skill as the pros. Where possible I will attempt to identify the tier, and the materials used in the construction of the fly to the best of my abilities. No attempt will be made to describe the steps used in tying the fly, but tiers interested in attempting some of these patterns will hopefully be aided and guided by the photographs. I will do my best to add a new pattern to this page as often as time allows.
I doubt if any tier can claim complete originality in the design of a fly pattern. Each time we approach the fly tying vise, we borrow from the the ideas of tiers who have come before us. Many competent tiers work only from patterns, reproducing as accurately as possible flies designed by other tiers. Other innovative fly tiers work from ideas that they visualize in their heads, and these are often the most original patterns. The very best flies in my opinion are flies which are tied to solve some angling problem. When a fly achieves this, it becomes a lasting pattern.
This Saltwater Fly Museum is dedicated to every angler who has ever attached thread to hook and tied a fishing lure. Young and old, men and women, amateur and professional fly tier alike... all add to our enjoyment of the wonderful sport of saltwater fly fishing. Exciting fishing and peaceful fly tying to all.
--Chris Windram
---
Catherwood's Ginger Squid - Bill Catherwood

Bill Catherwood is one of the "originals" of saltwater fly tying in New England... articles were being written as early as the 1950's about Bill's series of big flies called "Giant Killers". I had the pleasure of meeting Bill Catherwood several times in the 1990's, and he shared a few tales with me about raising his own birds for fly tying feathers, and dying those feathers to get the colors he wanted for his flies. Even more precious to me were the stories Bill shared about fishing for stripers back when big striped bass were much more common in Massachusetts than they are now. Bill's big flies, tied mainly with feathers, and sometimes spun-deerhair for the head, are exactly the kind of flies that really big stripers will chew on. Bill's "Ginger Squid" is a classic example of a fly made by someone with a keen eye, using the best materials that were available at the time, and many of Bill's flies feature subtle shades of dyed and natural colors not often seen in other saltwater flies.
Bill Catherwood is a real hero to many early saltwater tiers in New England, and we are grateful that he has been willing to share his stories, patterns, and fly-tying techniques with so many other anglers and fly tiers.

It is with great sadness that we have learned of the passing of Bill Catherwood, in November of 2013. We will remember you, Bill!

Here's an article that Bill penned for the Tewksbury Town Crier a year or so before his passing.

Bill's Obituary from the Lowell Sun

- Chris Windram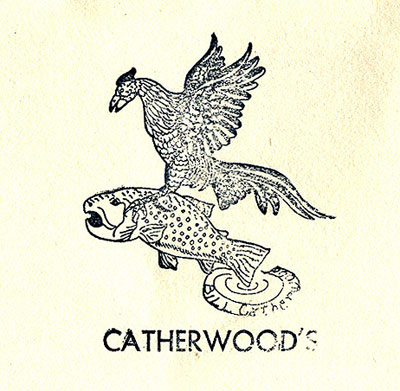 ---
Other Patterns in the Fly Museum:
Skok's Slobster - Dave Skok
Mummichog/Killifish - Anonymous
Needlefish - Bob Veverka
Tidewater Squid - Brian Dowd
Bomber Squid - Bob Lindquist
Bill's Bunker - Bill Peabody
---
This page originally posted May 2007
[Sail over to the Fly Selection Page] [Wade Back to the Home Page]