Home | Saltwater Flies | Fly Tying Materials | Saltwater Fly Fishing Accessories
Ordering Instructions, Shipping rates, Your Satisfaction Guaranteed
Saltwater Flies Mainpage | Chris Windram's Saltwater Fly Museum
Ghost Shrimp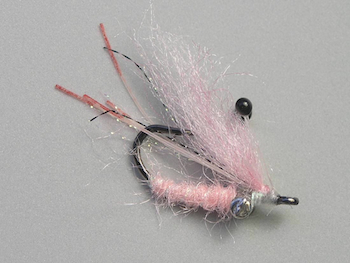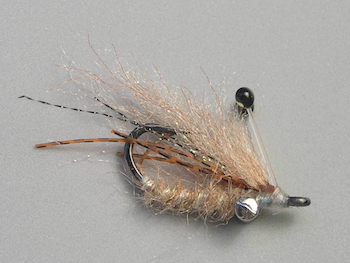 Enrico's Ghost Shrimp is an excellent modern design, and a perfect addition to any bonefish box. Both lead eye and bead chain eye versions are available to cover a variety of water depths, and this fly is tied in three color schemes for fishing over a variety of bottom types. The sparkly fibers create a nice amount of reflection without being too "flashy" - an excellent trait for fishing in areas where fish have seen a lot of brighter flies. The Ghost Shrimp features a great-looking set of crustacean eyes which also form a weedguard - great for fishing areas with snags. The larger size (#2) of this fly can also serve quite well for redfish, seatrout, and other estuary dwellers. With it's rubber legs and buggy eyes, Enrico's Ghost Shrimp can also double as a very good imitation of a small crab.
The "Lead Eye" version is pictured above - click the photos to see the flies close-up.

COLORS:				SIZES: 2, 6

Ghost Shrimp (w/Lead Eyes) $6.29/ea

#2 Tan		Add to Cart

#6 Pink		Add to Cart
#6 Root Beer	Add to Cart
#6 Tan		Add to Cart

Ghost Shrimp (w/Bead Chain Eyes) $5.99/ea

#2 Tan		Add to Cart

#6 Pink		Add to Cart
#6 Root Beer	Add to Cart
#6 Tan		Add to Cart

---
The #2 Ghost Shrimp measures approximately 2 inches long (5 cm); the #6 fly measures approximately 1 1/2 inches (4 cm) long. The "Lead Eye" version is heavier than the "Bead Chain Eye" version. Similar patterns: Enrico's Spawning Shrimp. Tied by Enrico Puglisi LTD.
---
Note: All of the Saltwater Flies that we sell are handcrafted items - some small variations in size, color, or shape from the flies pictured here are possible. We guarantee your satisfaction with any fly purchased from us - if any fly you order from us does not meet your expectations, you may return it (unfished!) for a full refund.
---




TIGHT LINES!
P.O. BOX 362, HOUSATONIC, MA 01236
413 274-6143 * Fax 413 274-0145


SaltwaterFlies.com - Got Backing?

We can help you to choose a fly selection for your needs.
E-mail us at cwindram@SaltwaterFlies.Com.

[Back to the Fly Navigation Page] [Wade Back to the Home Page]