Home | Saltwater Flies | Fly Tying Materials | Saltwater Fly Fishing Accessories
Ordering Instructions, Shipping rates, Your Satisfaction Guaranteed
Saltwater Flies Mainpage | Chris Windram's Saltwater Fly Museum
The Gurgler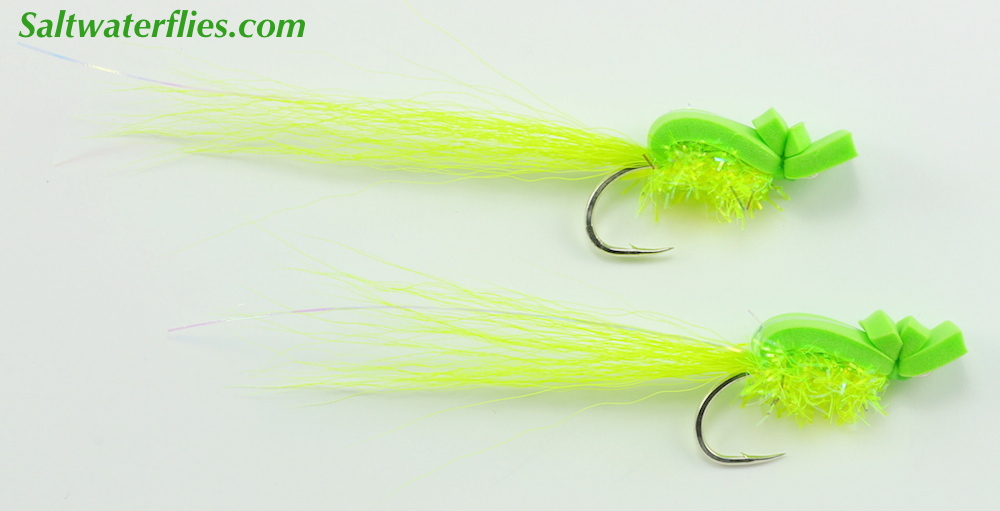 The Gurgler is a modern topwater pattern that has quickly become a classic. The key fish-attracting features of this fly are a foam "lip" which makes a wake on the surface of the water, and an Estaz/Crystal Chenille body which creates a bubble trail on the retrieve. We've updated this pattern with a doubled foam "shoulder" to provide even better floatation. This fly has proven its effectiveness on a wide range of species. In New England, this is an important striped bass fly. In other locations, Snook, Redfish, Seatrout, and more will strike Gurgler patterns with abandon! This is also a useful fly for freshwater big game species like northern pike, largemouth bass, and peacock bass. Chartreuse version pictured here... the "White" version is basically an all-white fly with white foam, white tail, and pearl Estaz chenille on the body.
---

COLORS:                    		SIZE: #1/0              PRICE $7.49 each

White		Add to Cart
Chartreuse	Add to Cart

COLORS:                    		SIZE: #2               PRICE $7.49 each

White		Add to Cart



Our Gurglers are tied on the Gamakatsu SL12 hook in a size #2 or #1/0. The size #2's are approximately 3 1/4 inches (8 cm) in length; the #1/0's are about 4 inches (10 cm). Original fly design is by the immortal Jack Gartside...Tied in the USA. Tying instructions are still available at Jack Gartside's website.
Fishing the Gurgler: This fly fishes well day or night. At times, a steady "slider" type retrieve will be the key, especially for stripers at night. For daytime fishing, try mixing it up with some erratic action. A bit of light popping or splashing from this fly will bring strikes in the daytime as fish home in on this pattern as if it was a wounded minnow.
---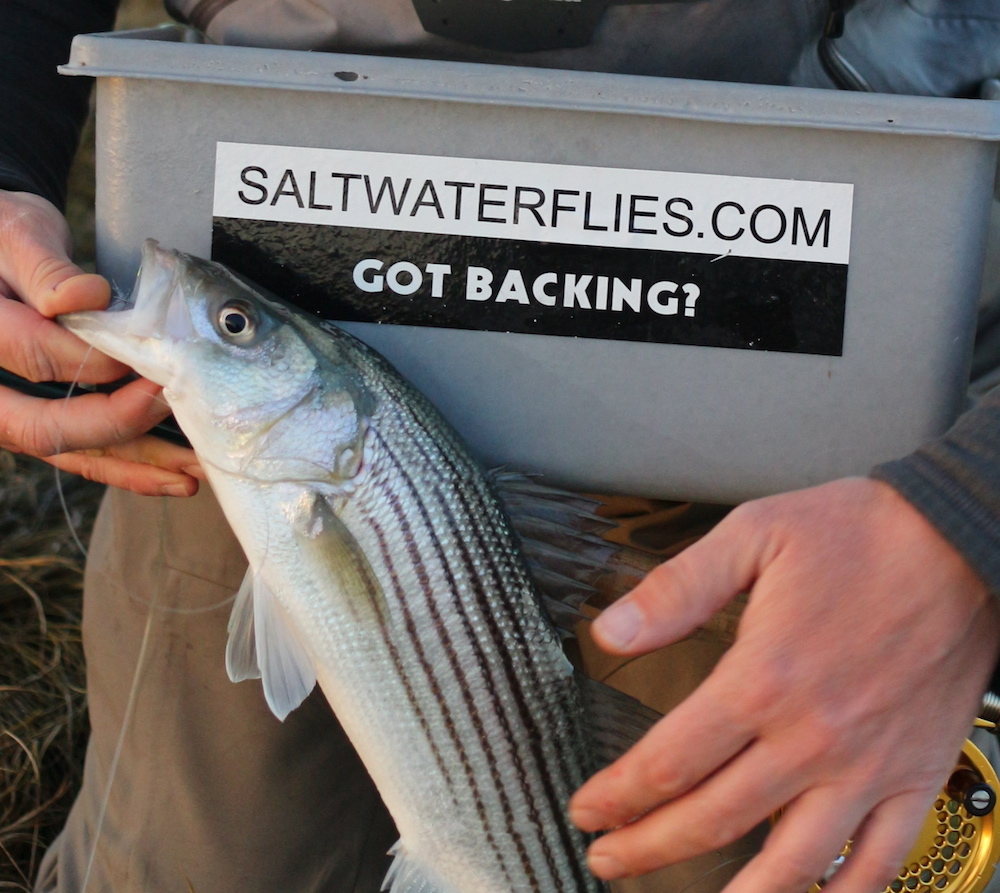 Backwater Striper. Photo: Chris Windram
---
---




TIGHT LINES!
P.O. BOX 362, HOUSATONIC, MA 01236


SaltwaterFlies.com - Got Backing?

We can help you to choose a fly selection for your needs.
E-mail us at cwindram@SaltwaterFlies.Com.

[Back to the Fly Navigation Page] [Wade Back to the Home Page]