Home | Saltwater Flies | Fly Tying Materials | Saltwater Fly Fishing Accessories
Ordering Instructions, Shipping rates, Your Satisfaction Guaranteed
Saltwater Flies Mainpage | Chris Windram's Saltwater Fly Museum
Mini Puff & Crafty Puff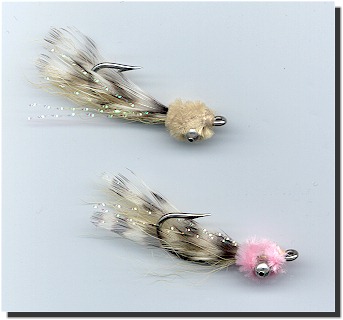 Mini Puff - Pink, Tan
The Mini Puff is a simple, classic style of bonefish fly designed for shallow water conditions and spooky fish. The soft chenille head helps to soften the splashdown of this fly so that it makes less noise on entry, and the barred grizzly feathers mimic the mottled appearance of prey found on the bonefish flats. Be sure to keep a few Mini Puffs in your box for skittish fish in shallow water. The Crafty Puff is a modern variation, tied with soft craft fur for more subtle movement in the water.
---

COLORS:				SIZES: 4,6			PRICE $3.99 each
Mini Puff (shown above)
#4
Pink	Add to Cart
Tan	Add to Cart

#6
Pink	Add to Cart
Tan	Add to Cart

Crafty Puff (shown below)
#4
Tan	Add to Cart

The Mini Puff #4 fly is approximately 1 3/8 inches in length.
---
Crafty Puff - Tan
Crafty Puff - Tan, Top View
---




TIGHT LINES!
P.O. BOX 362, HOUSATONIC, MA 01236
413 274-6143 * Fax 413 274-0145


SaltwaterFlies.com - Got Backing?

We can help you to choose a fly selection for your needs.
E-mail us at cwindram@SaltwaterFlies.Com.

[Back to the Fly Navigation Page] [Wade Back to the Home Page]