Popper Blanks
Rainy's foam popper heads are excellent for making poppers for big, aggressive fish like bluefish, striped bass, dolphin, barracuda, tarpon, snook, jacks, largemouth bass, and even false albacore and small tunas. Pencil Popper heads are long and thin for ease of casting and a slim profile. Any of these foam heads can be used to make a popper, or reversed to make a slider style of fly. Tie one up, tie it on, then hold on!
Please note: we list all of these popper heads with the manufacturer's designations, but just because a popper is labelled as #1/0, #2/0, etc., does not guarantee that they will fit perfectly on a given hook style or size. Please read the descriptions carefully as we have listed the exact measurements for all of the popper heads shown below - for a good fit, the length of the popper should be similar to the shank length of the hook that you plan to use. Any of these foam popper heads can easily be trimmed to length with a sharp blade for a custom fit on the hook style of your choice. Where possible, we have made a few suggestions for possible hook/popper head match-ups. Please be aware the these popper heads are typically formed by hand by the folks who make them, so some small variations in size/shape are possible.
We offer some good hooks for poppers on Page 1 of our fly tying materials catalog, including traditional kinked-shank style popper hooks like the Mustad CK74S and the Umpqua U505. Other useful long-shank hook styles for poppers are the Gamakatsu SP11-3L3H and the Gamakatsu "Spinnerbait" hook, as well as the Mustad S74SNP-34011. For really big poppers, try the Owner Longshanks.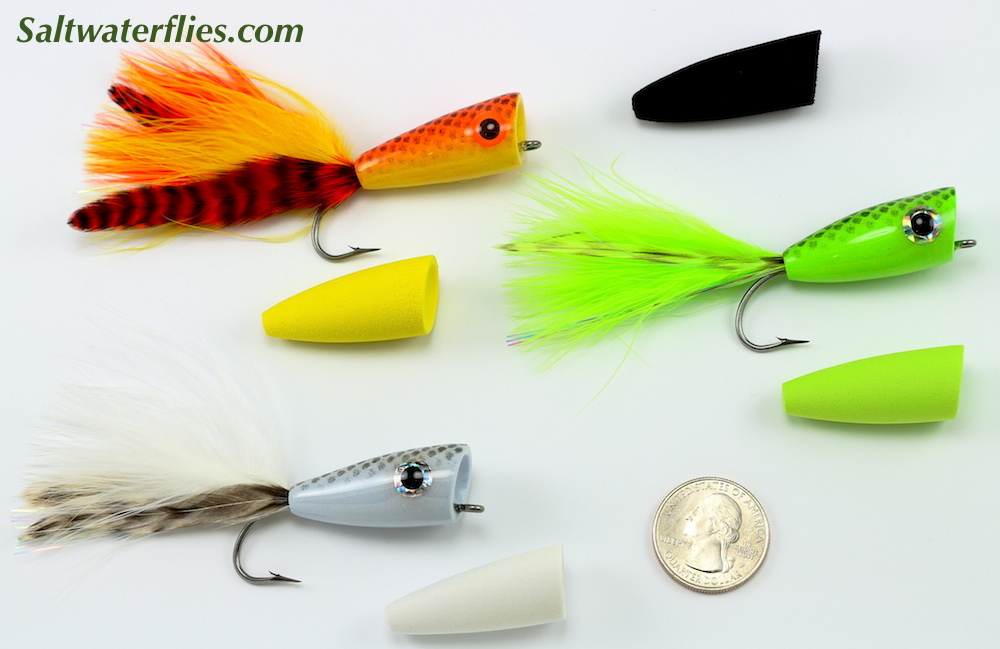 Saltwater Poppers
Rainy's Saltwater Poppers - These foam popper heads by Rainy's Flies are perfect for making saltwater poppers. The very popular size Medium are shown in the photo above, along with some completed poppers for reference. Click size headings below to see closeup photos of the respective sizes. All sizes $7.99/pack - see below for per pack quantities.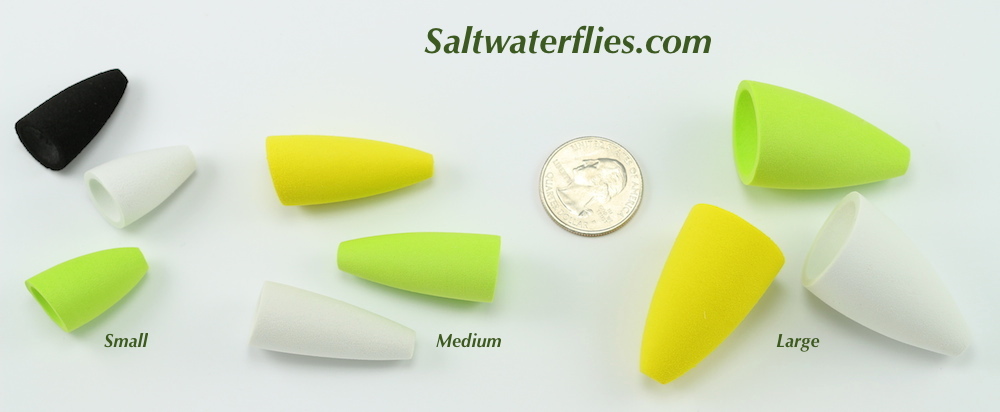 Saltwater Poppers - sizes
Small Length: approx 1" (27mm); Diameter at the face: 5/8" (15mm) 6/pack.
White Add to Cart
Chartreuse Add to Cart
Yellow Add to Cart
Black Add to Cart

Medium Length: approx 1 1/2" (39mm); Diameter at the face: 5/8" (15mm) 6/pack.
White Temporarily out of stock
Chartreuse Add to Cart
Yellow Add to Cart
Black Add to Cart

Large Length: approx 1 3/4" (45mm); Diameter at the face: 1" (27mm) 3/pack.
White Add to Cart
Chartreuse Add to Cart
Yellow Add to Cart
Black Add to Cart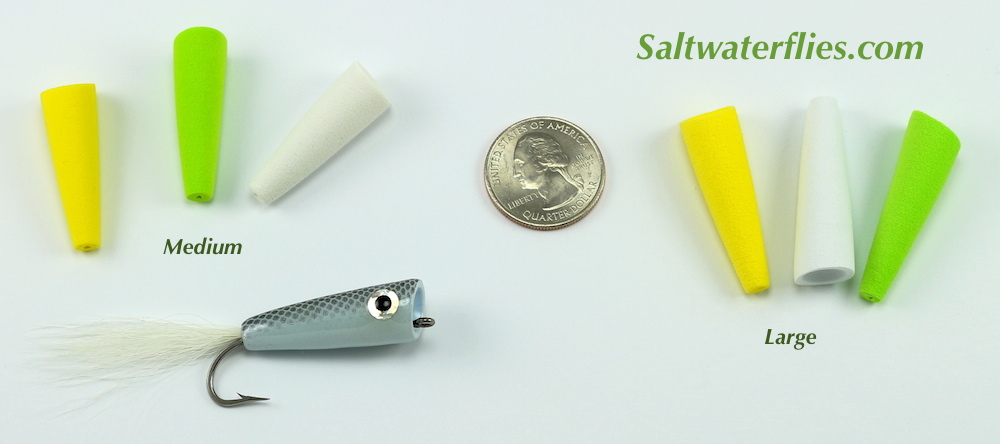 Pencil Poppers
Rainy's Pencil Poppers: Classic pencil popper style heads by Rainy's Flies. All sizes $7.99/pack - all of the Rainy's Pencil Popper heads are packaged 6/pack. See closeups of the size medium; and size large heads.

Medium Length: approx 1 3/8" (35mm); Diameter at the face: 7/16" (11mm)
White Add to Cart
Chartreuse Add to Cart
YellowAdd to Cart

Large Length: approx 1 5/8" (40mm); Diameter at the face: 1/2" (12mm)
White Add to Cart
Chartreuse Add to Cart
Yellow Add to Cart

---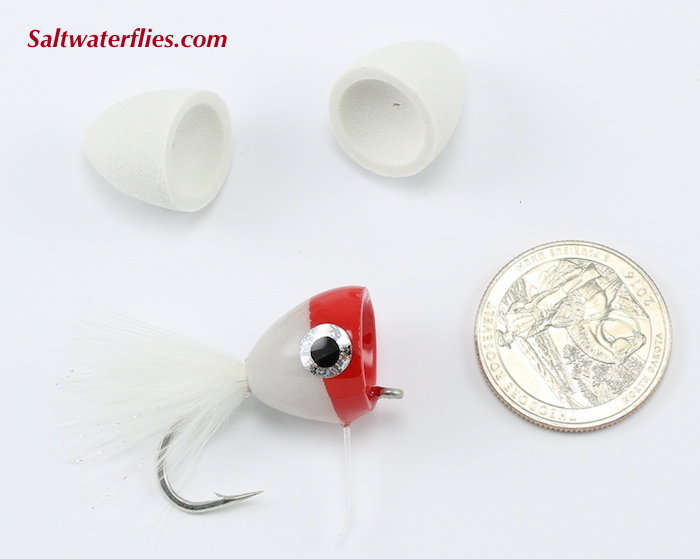 Mini-Me Poppers
Rainy's Mini-Me Poppers - $5.95/pack - packaged 6/pack. This small popper head will go nicely on something like the Gamakatsu SC15 #2/0 hook, to make for a compact, lightweight popper that makes a big splash with hungry fish. Mini Me heads measure approximately 5/8" long and a little over 1/2" diameter at the face.

Medium
White Add to Cart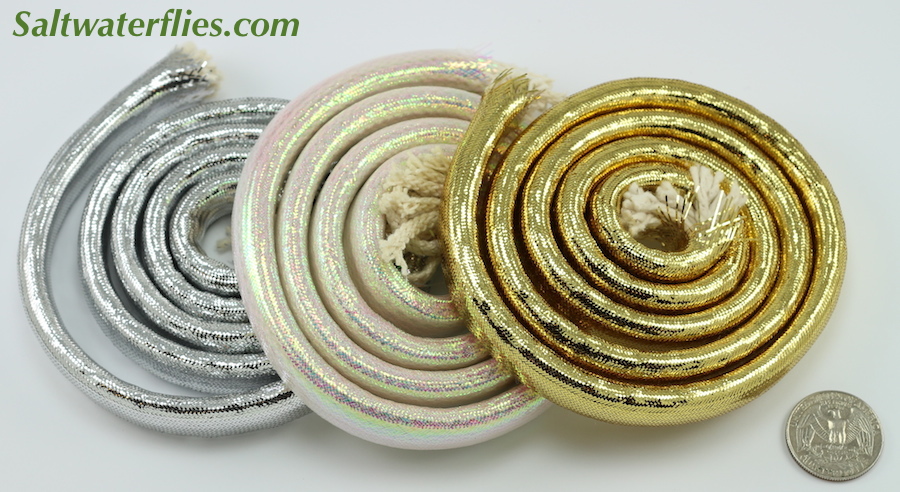 3XL Mylar Tubing
3XL Mylar Tubing: This is the very large mylar tubing which can be slipped over some foam popper heads to make a "Crystal Popper" style of popper. It's a tight fit, but with a bit of work (might require some light sanding of the popper head) this tubing will fit over the Rainy's Medium size "Pencil Popper" heads. 1 yd per pack: $4.95/ea


Pearl Add to Cart
Silver Add to Cart
Gold Add to Cart
Copper Add to Cart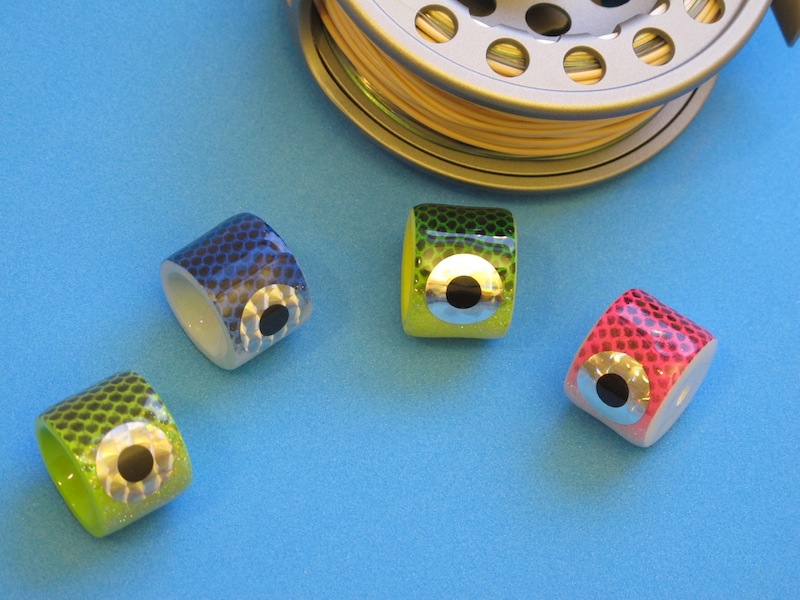 Big Eye Poppin' Heads
Big Eye Poppin' Heads: Now from Rainy's Flies come some of the nicest cylindrical-foam big-game popper heads that we have seen yet. Made to be rigged on a tube, and strung on the shock leader, or placed directly on the front of a large tube fly, these heads feature reflective glitter & scale patterns, a very large reflective eye, and an epoxy finish for a really beautiful look. Classic cylindrical design features one cupped face and one flat face - great for sailfish & marlin poppers, and even for big reef-dwellers like Giant Trevally & monster Roosterfish. We're not sure what the "CB" in the color name refers to, but that's how they're labelled by Rainy's. 2 heads per pack. $8.99/pk.

CB Blue (Blue/White) Add to Cart
CB Green (Green/Yellow) Add to Cart
CB Pink (Pink/White) Add to Cart
CB Chartreuse Add to Cart
Solid Pink (Solid Hot Pink) Add to Cart

Turbo Poppin' Heads: Large offshore style popper heads that can rigged to ride on the leader ahead of offshore streamer flies, or affixed to the nose of the fly. These heads provide maximum sound and disturbance in the water to attract the attention of sailfish, marlin, tuna, wahoo, and more. Diameter of these is approximately 1 1/4" (3cm) at the face. Length: about 1 1/2 inches. 2 heads per pack. $8.29/2pk.
Chartreuse Add to Cart
Hot Pink Add to Cart
White Add to Cart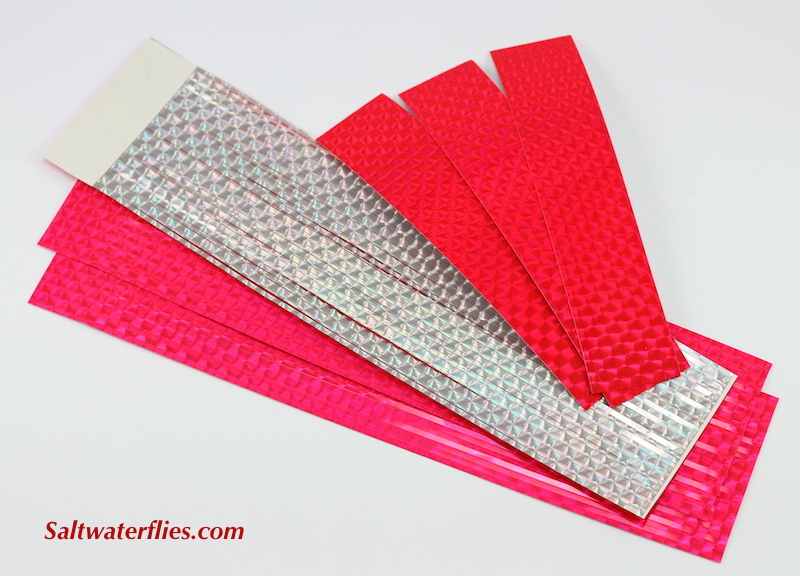 Mylar Skirts
Mylar Skirts for Popper Heads: These Mylar Skirts are for making offshore poppers using foam cylinder style popper heads. Each skirt measures 2"X8", and features an adhesive backing to help wrap the skirt onto the head. Every color except Pearl is silver on the "inside" (the side of the skirt with the adhesive strip). The Pearl color is stransparent. The "strands" of the skirt measure 1/16" in width. Each pack contains three skirts and three 4" long strips of 1" wide adhesive backed decorator tape to overwrap the skirt where it attaches to the popper head. One pack of Mylar Skirts will dress three 3/4" diameter cylinders or two 1" diameter cylinders.
Here's a photo of some of the other colors.

Mylar Skirts: $4.99/pack
Silver Add to Cart
Hot Green Add to Cart
Dark Blue Add to Cart
Hot Pink Temporarily out of stock
Chartreuse Add to Cart
Pearl Add to Cart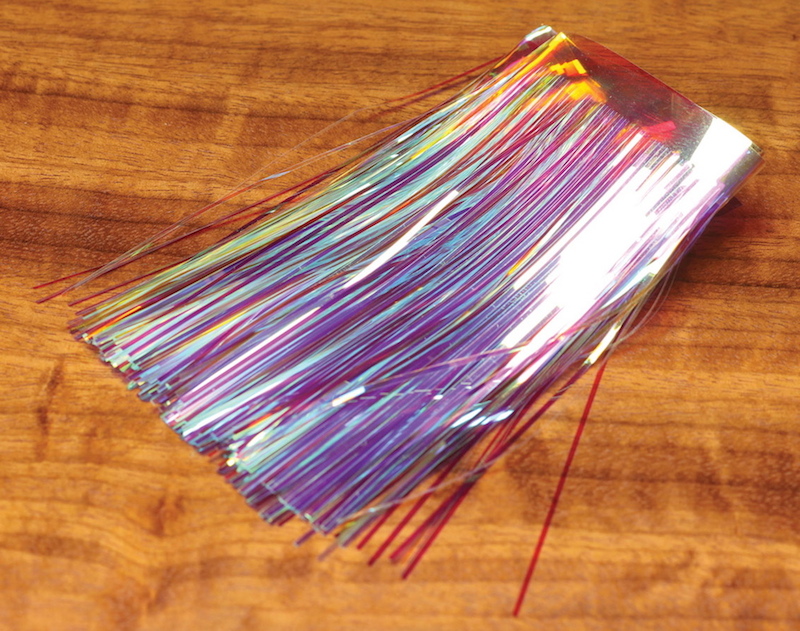 Mirage Fringe
Mirage "Fringe" Popper Skirts Opal: $5.99/pack:
These skirts are made of Flashabou Mirage, and will make the brightest little popper you've ever seen - great for small tunas, bluefish, and any aggresive fish that chase topwater flies. Strands are cut to approx 1/16" (1mm) width - strands are approx 3 3/4"(10 cm) long. Strands are connected at one end by a solid band - just wrap the band around a popper head, overwrap with some adhesive tape (try the "Banger Strips" shown below under the "Prismatic Reflective Decorator Tape" heading), and you're in business! Each pack contains approx 18" (46 cm) of Fringe.
Mirage "Fringe" Popper Skirt Opal Add to Cart

Large Adhesive Eyes: Oversize adhesive eyes used to make offshore poppers like the Master Blaster and Master Jack. Use the #16 (1") eye for the Master Blaster heads or our 1" diameter foam cylinders...use the #12 (3/4") eye for the Master Jack or our 3/4" diameter foam cylinders, or see "Page 1" of our catalog for a huge range of adhesive eyes sizes, including some large sizes that are not quite as big as the ones shown below.
#12 (3/4") (36 eyes per pack - $3.95/pack) #21 Silver Add to Cart
#16 (1") (30 eyes per pack - $3.95/pack) Silver Add to Cart
---
Fly Tyers Tubes - Large: These are the correct size tubes for rigging the Rainy's Big-Eye Poppin' Heads, Turbo Poppin' Heads, and other Billfish Popper heads. 10 per pack; each tube is 5 inches (12.75 cm) long, and can be easily cut down to any preferred length. These are rigid nylon tubes suitable for tying large tube flies - a length of soft flexible tubing for joining the hard tube to the hook eye is included. Inside diameter: .080"; outside diameter: 1/8" (.125). $6.95/pack Add to Cart
Fly Tyers Tubes - Small: Ideal for tying tube flies for salmon & steelhead, as well as small to midsize tube fly streamers for saltwater fishing. These are rigid nylon tubes - a length of soft flexible tubing for joining the hard tube to the hook eye is included. Inside diameter: .042"; outside diameter: 3/32". 10 per pack; each tube is 5 inches (12.75 cm) long. $6.95/pack Add to Cart
HMH Tube Fly Starter Tool: Simply mount this tool in the jaws of your existing vise to start tying tube flies! Includes tube tools and a small assortment of tubes to get you started. $40.95 Add to Cart
View Cart