Home | Saltwater Flies | Fly Tying Materials | Saltwater Fly Fishing Accessories
Ordering Instructions, Shipping rates, Your Satisfaction Guaranteed
Saltwater Flies Mainpage | Chris Windram's Saltwater Fly Museum
Half & Half / Deep Deceiver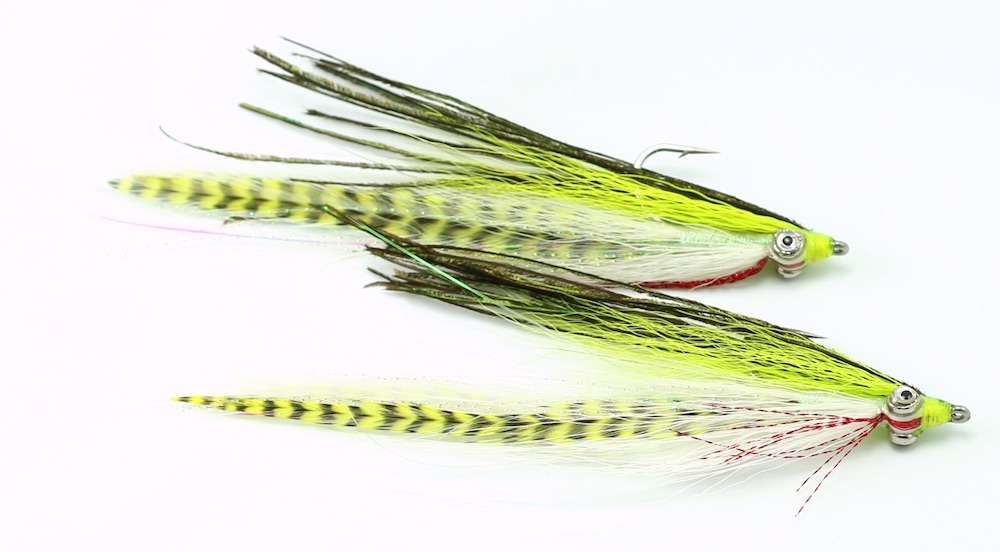 When Lefty Kreh and Bob Clouser get together on a fly pattern, you know it's gonna be good! This modern pattern is a combination of two classic flies; the Clouser Deep Minnow and the Lefty's Deceiver. With the profile of the classic Deceiver, and weighted eyes providing a jigging action and getting the fly down to the level of the fish, this fly will attract solid strikes from all sorts of gamefish. $8.99/ea
---

SIZE: 1/0

Blue/White	Temporarily out of stock
Chartreuse/White Temporarily out of stock
Olive/Yellow/White Temporarily out of stock

SIZE: 3/0

Chartreuse/White Temporarily out of stock



Our #1/0 Half & Half is tied by Mike Ozkaya (LIFlies) - the size #1/0 is approximately 5 inches (12.5 cm) long. Similar patterns: Clouser Deep Minnow, Classic Deep Minnow, etc.,
Fishing the Half & Half: Great for fishing structure in rocky areas, as well as in open water. Try a variety of retrieves until the fish respond. For species like Striped Bass, try a fast strip/pause retrieve at first, but don't hesitate to try a steady two-handed retreive which can also produce results. For fishing rips and deeper water, cast the fly across the current, then let the fly swing into holding areas. Always be ready for the strike; this fly has produced some heavy fish for anglers in the past.
---
Note: All of the Saltwater Flies that we sell are handcrafted items - some small variations in size, color, or shape from the flies pictured here are possible. We guarantee your satisfaction with any fly purchased from us - if any fly you order from us does not meet your expectations, you may return it (unfished!) for a full refund.
---




TIGHT LINES!
P.O. BOX 362, HOUSATONIC, MA 01236
413 274-6143 * Fax 413 274-0145


SaltwaterFlies.com - Got Backing?

We can help you to choose a fly selection for your needs.
E-mail us at cwindram@SaltwaterFlies.Com.

[Back to the Fly Navigation Page] [Wade Back to the Home Page]