Home | Saltwater Flies | Fly Tying Materials | Saltwater Fly Fishing Accessories
Ordering Instructions, Shipping rates, Your Satisfaction Guaranteed
Saltwater Flies Mainpage | Chris Windram's Saltwater Fly Museum
Enrico's Tarpon Streamer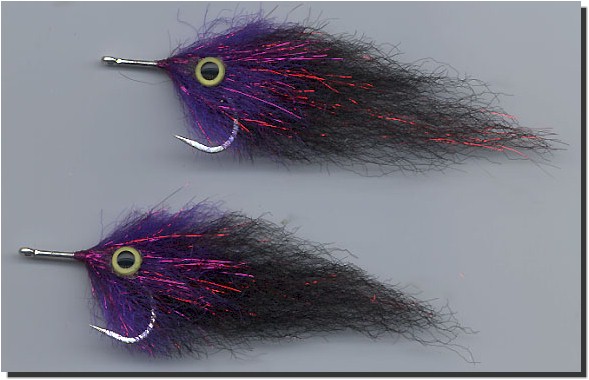 This modern tarpon streamer is a useful fly for "educated" fish. When tarpon in hard-fished areas see a lot of fly patterns, it becomes tougher and tougher to get them to eat. Show them something new, and they may take a chance. When fish begin to ignore traditional tarpon flies, try the Enrico's Tarpon Streamer. Whether you fish the Keys, bridges, the backcountry, or even the Gulf, this pattern can help you fool difficult tarpon - this fly has now gained popularity with tarpon anglers worldwide.
---

COLORS:             		SIZE: #2/0, 3/0

2/0 $9.95/ea

Red/Black	Add to Cart
Purple/Black	Add to Cart
Brown/Tan	Add to Cart
Yellow/Orange   Add to Cart

3/0 $10.95/ea

Red/Black 	Add to Cart
Purple/Black 	Add to Cart
Yellow/Orange	Add to Cart

View Cart

Enrico's Tarpon Streamer flies are tied on strong, super sharp Gamakatsu hooks by Enrico Puglisi Ltd. Click the hot-linked fly names above to see related photos of each color pattern. Similar styles: Enrico's Blueback Herring, Enrico's Finger Mullet, Enrico's Backcountry Baitfish.
---




TIGHT LINES!
P.O. BOX 362, HOUSATONIC, MA 01236
413 274-6143


SaltwaterFlies.com - Got Backing?

We can help you to choose a fly selection for your needs.
E-mail us at cwindram@SaltwaterFlies.Com.

[Back to the Fly Navigation Page] [Wade Back to the Home Page]