Home | Saltwater Flies | Fly Tying Materials | Saltwater Fly Fishing Accessories
Ordering Instructions, Shipping rates, Your Satisfaction Guaranteed
Saltwater Flies Mainpage | Chris Windram's Saltwater Fly Museum
Turneffe Crab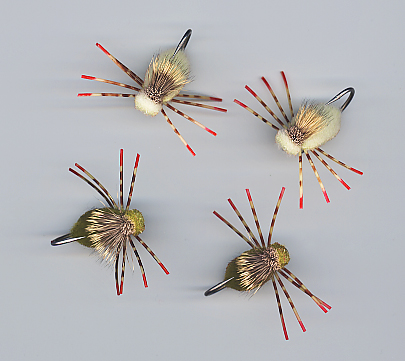 The Turneffe Crab has become a standard for permit and bonefish in Belize at Turneffe Flats and other locations. Great fly design by Craig Matthews - this is a very nice fly, and lighter in weight than some crab patterns making it useful for shallow water and for areas where fish are skittish. See below for size reference photo of the #6 Turneffe Crab.
---

COLORS:         SIZES: 4, 6,		PRICE: $5.99/EA

Cream #4 Add to Cart
Cream #6 Add to Cart

Olive #4 Add to Cart
Olive #6 Add to Cart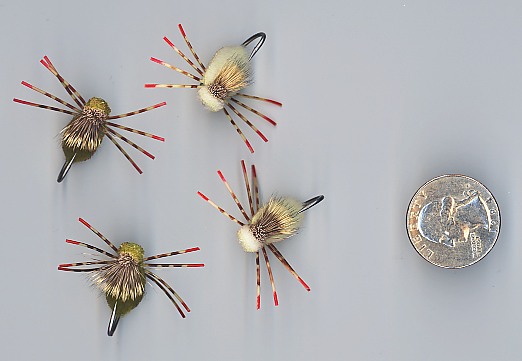 The Turneffe Crab is tied by Umpqua Feather Merchants. Fly design by Craig Matthews. Other flies for Belize & Turneffe Flats include the Bonefish Bitters, the EP Micro Crab, and the Turneffe Micro Shrimp. Other Crabs: EP Permit Crab, Chernobyl Crab, Del's Permit Crab / Merkin. For more info, you can also check out this "Turneffe Flats" suggested fly selection webpage (external link - please use your browser's "back" button to return to Saltwaterflies.com.
---




TIGHT LINES!
P.O. BOX 362, HOUSATONIC, MA 01236
413 274-6143 * Fax 413 274-0145


SaltwaterFlies.com - Got Backing?

We can help you to choose a fly selection for your needs.
E-mail us at cwindram@SaltwaterFlies.Com.

[Back to the Fly Navigation Page] [Wade Back to the Home Page]